Ye Olde Clip Shoppe Deluxe
Download Page

ClipShop© Copyright Bill Buckels 1991-2007. All Rights Reserved.
Version 2.0 (Win32 Release for XP)

---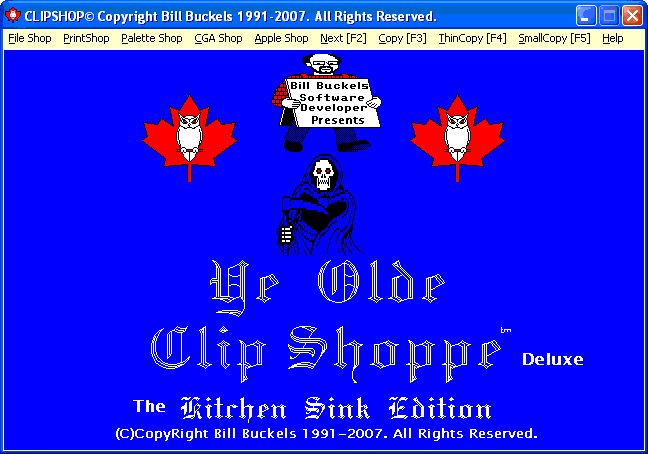 ---
Download Clipshop by clicking on the link below:



ClipShop2Setup.exe - ClipShop Installation

VgaFanSetup.exe - Complimentary XP ScreenSaver Installation
---
About ClipShop

Overview

ClipShop is a "Legacy Graphics" utility program which allows you to view, edit, save and print Old PrintShop, PrintMaster, and PrintPartner ClipArt.

ClipShop also supports viewing, editing, saving and printing of other older graphics and text file formats including BSaved, PCPaint Pictor PIC, PCX and BSV.

Apple II HIRES Images and many Commodore 64 Image Formats are supported as well.

The currently displayed ClipArt or graphic can also be copied to the Windows Clipboard to be used in other programs, to compose a new screen image, or converted to other formats like Windows BMP, Pictor PIC, PCX, or BSaved.

You can choose a copy command from a variety of 3 clipboard copy commands. Each of these 3 commands are used to get different proportions for the appearance of the ClipArt or graphic. Saving to BMP or other formats also supports this feature.

ClipShop supports both page size and "screen-scale" printing and Clipart catalog printing and saving to BMP is also provided.

Online Help

ClipShop's help file is extensive, and you will have no trouble finding the help you need to change colors in a graphic, or to use the many other graphics editing options that ClipShop supports. The online help should provide more than enough information to get you started.

Extras

ClipShop comes with a large collection of old ClipArt and many sample graphics.

ClipShop is distributed with authorized versions of PCPaint, the very first Paintbrush program for the PC (by John Bridges), which can be optionally installed to run under Windows XP, and many other extras.

The installation of Legacy Applications (PCPaint, etc) is optional. During testing of ClipShop, I have found that some hardware platforms are unable to run CGA Mode DOS Legacy Applications without using DosBox.

History and Development

ClipShop was originally written by me (Bill Buckels) in 1999, and was reworked as a Win32 application with support for long filenames in 2006 followed with significant functional and content additions and improvements.

When ClipShop was first released, its use was limited to supporting Legacy ClipArt in Windows. ClipShop was expanded a great deal for the 2007 Windows XP rewrite (ClipShop Deluxe), including support for other Legacy Graphics formats.

ClipShop now supports the features that we have come to expect in a Windows XP application, including File Associations, ShortCut Menus, and integrated printing functionality.

This release of ClipShop includes the following Applications previously released by ClipShop's author or the (expanded) functionality of them (and much more):
ClipShop was written in C and compiled under the Visual Studio 2005 command line using the Win32 SDK for Windows XP. The main application's Source Code is not bundled with the application since it is not for distribution. The source code for several of the programs that come with ClipShop is included with ClipShop.

Effective July 15, 2007 ClipShop has been "Officially" released and may be publicly distributed.

Thank you "Offical Beta Testers" for taking time to help me with getting ClipShop ready for release.


---

Register ClipShop Online

If you have not yet Registered ClipShop, you have only 30 days from the date of the first installation to do so before ClipShop ceases to function.

A single user licence is $10.00 US. When you register Clipshop, you will receive a Registration Code via return email normally within 24 hours of the processing of your payment.

If you wish to register via surface mail instead of using the internet please send an International Money order in the amount of $10.00 US per licence made payable to WILLIAM BUCKELS to the address below, giving the licencees User Names (Minimum 8 Characters) and your email address.

ClipShop Registration
c/o William Buckels
14 Berrydale Ave.
Winnipeg, MB, Canada
R0C 1B0

Sorry, but an email adress to return the registration activation code is required on orders of less than 5 licences ($50.00 US). Activation codes for orders of 5 licences or more can be optionally forwarded via surface mail on request.


---
George Orwell on English writer James Hadley Chase's No Orchids for Miss Blandish (1939):

... the career of Mr. Chase shows how deep the American influence has already gone. Not only is he himself living a continuous fantasy-life in the Chicago underworld, but he can count on hundreds of thousands of readers who know what is meant by a 'CLIPSHOP' or the 'hotsquat', do not have to do mental arithmetic when confronted by 'fifty grand ' and understand at sight a sentence like 'Johnny was a rummy and only two jumps ahead of the nut-factory'. Evidently there are great numbers of English people who are partly Americanized in language and one ought to add, in moral outlook '

(George Orwell, 1970, Collected Essays, Journalism and Letters, Vol 3 of 4. Harmondsworth: Penguin.)

---
Orwell's observation written over 30 years ago doesn't mention the impermanence of "the American influence". Some of the "slang" that may have seen commonplace use in Chicago in 1939 is barely understood today. It is almost as if language is a commodity, and once consumed needs to change to keep itself interesting to its consumers.

And like language in Orwell's day, and even if you are a Canadian Software Developer, nothing right now seems any more Culturally "American" (and Impermanent) than Software...

A ClipShop in 1939 Chicago was probably a place where you went to have your money taken from you (A.K.A. a "ClipJoint"). But in 1999, an Internet search for the term "ClipShop" turned-up practically nothing, except Orwell's quote. It was for that reason of uniqueness as well as being a good description for the program that the name ClipShop was chosen for this program.

As it turns out, the computer has accelerated the changing "American Influence" much more than Orwell could ever have imagined... or considering 1984 and Orwell's Big Brother, as much as Orwell ever imagined. It is almost ironic that the "PrintShop" and "PrintMaster" Clip Art Libraries that are used by ClipShop are orphans now, and do not even exist on their respective websites. It is as if they had never even existed. Yet 10 years before (not 60) they were "on the tips of everyone's tongues..."

---
Version 2 has many more features than previous versions and is compatible with the Windows XP 32 Bit Edition and hopefully other versions of 32 bit Windows.
---

© Copyright Bill Buckels 1991-2007
All Rights Reserved.

ClipShop™ and Ye Olde Clip Shoppe™ are trademarks of Bill Buckels.